August 2023
Vol. 4 No. 7 | ISSN: 2652-5836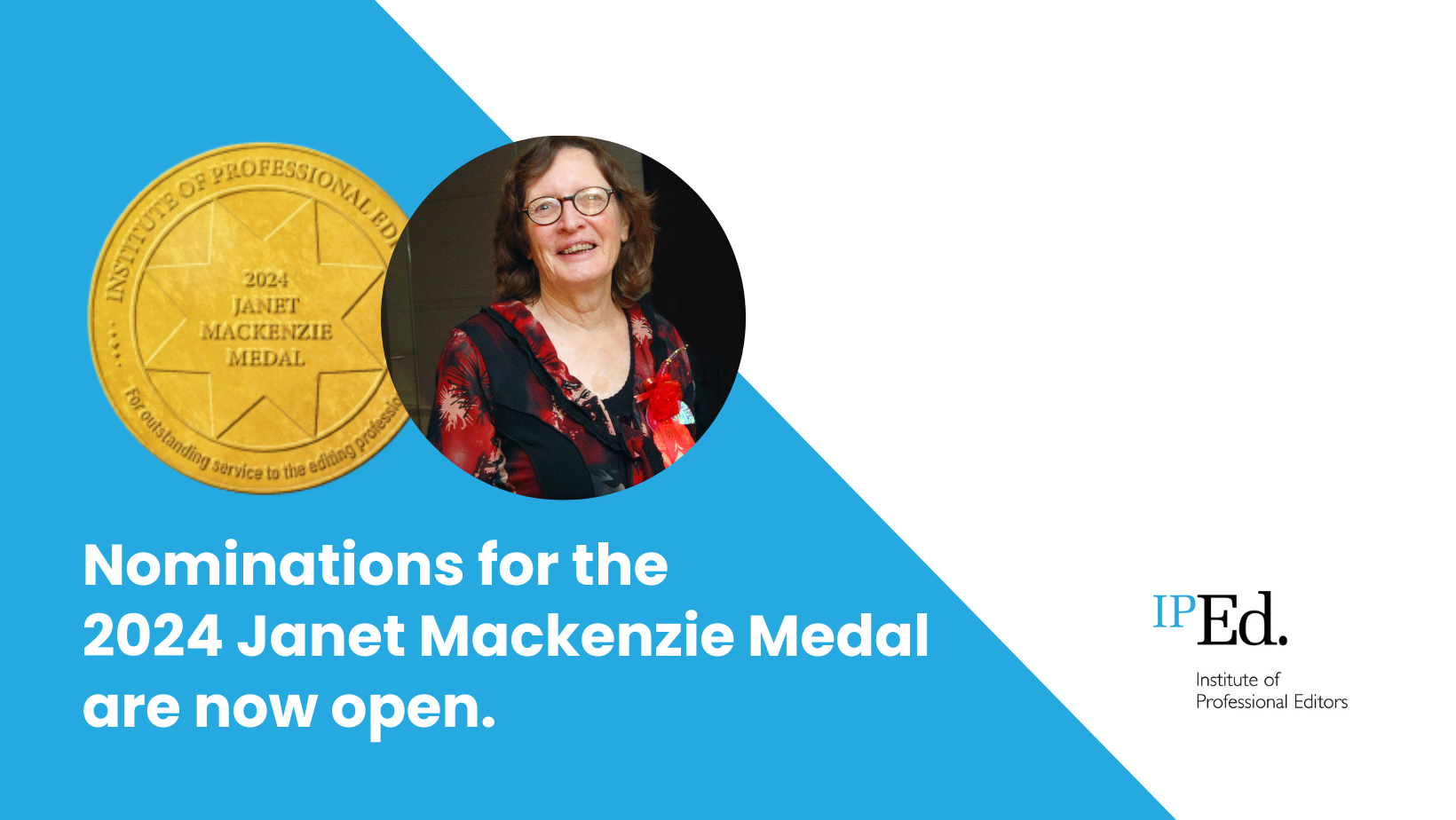 Nominate an editor for the Mackenzie
IPEd invites nominations for the 2024 Janet Mackenzie Medal (the Mackenzie) from 1 August to 31 October 2023.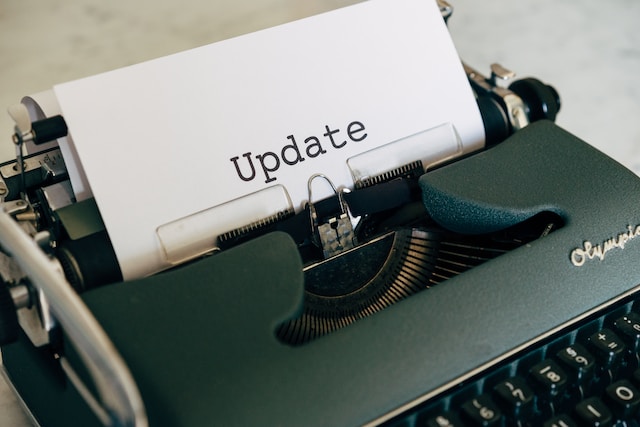 Update on the Standards revision
The IPEd Standards Working Party (ISWP) are in the final stages of implementing changes based on the feedback of external reviewers.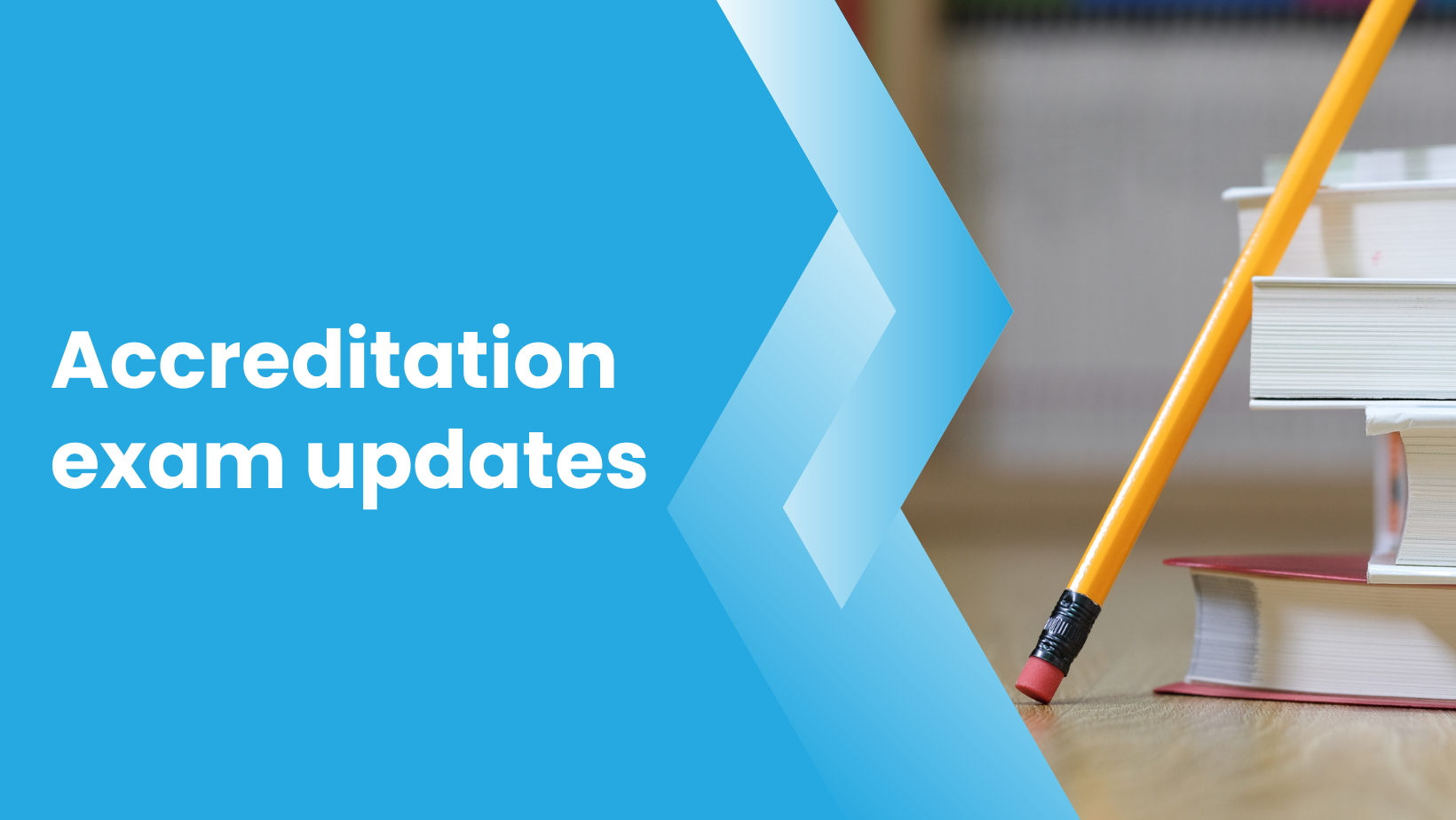 Changes to the accreditation exam
The accreditation exam in 2024 will take the same basic format as previous exams, but there are also important changes that candidates should be aware of.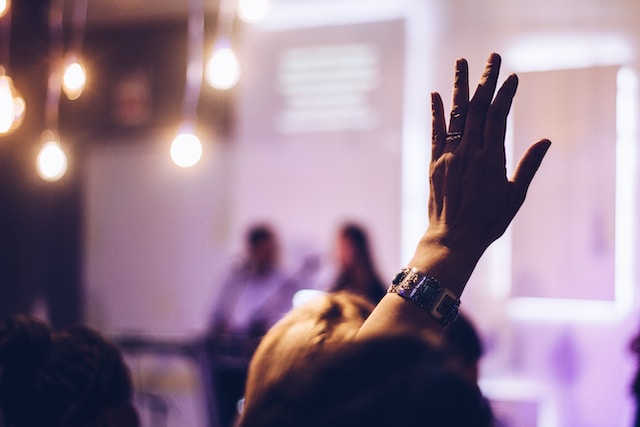 Australian and New Zealand Society of Indexers Conference
The Australian and New Zealand Society of Indexers (ANZSI) Conference will be held on 19 to 21 October 2023. The theme is "Making Connections". IPEd members are offered the same rates as ANZSI Members as part of our Affiliation Agreement.

General interest
Event report: "Effectively using it: how good grammar contributes to clearer writing" with Dr Linda Nix AE

On 4 July 2023 (postponed from 6 June), EdNSW hosted a popular and well-received presentation on grammatical gremlins.
Workshop report: "Social media for editors" with Dr Malini Devadas
IPEd members were recently invited to attend Dr Malini Devadas's workshop "Social media for editors: How to use LinkedIn and Instagram to find clients".
Workshop report: "Grammar refresher for editors and writers" with Linda Nix
Dr Linda Nix AE ran her popular grammar refresher course on behalf of Editors Victoria over two sessions in late July.
Events
EdSA: Annual Branch Meeting
Date: Wednesday 9 August
Time: 6.00 pm to 6.30 pm ACST
Location: online via Zoom
Cost: Free for SA branch members
Bookings
Bookings Close: 5.00 pm ACST, Tuesday 8 August 2023
EdSA: The ChatGPT revolution with Donna McGeorge
Date: Wednesday 9 August 2023
Time: 6.30 pm to 7.30 pm ACST (Adelaide)
Location: online via Zoom
Cost: IPEd Members, reciprocal members and Writers SA members AUD15 (NZD14.71); non-members AUD20 (NZD19.60).
Bookings
Bookings Close: 5.00 pm ACST, Tuesday 8 August 2023
EdVic: Introduction to ebook editing (training course)
Dates: Saturday 19 August and Wednesday 23 August, (two-part course)
Time: Saturday: 1.00 pm to 3.00 pm (AEST) and Wednesday: 7.00 to 8.00 pm (AEST)
Location: online via Zoom
Bookings
Bookings Close: 5.00 pm AEST, Thursday 10 August 2023
EdVic: Regional editors' get-together
Date: Wednesday 30 August 2023
Time: 11:00 am AEST
Location: Eclectic Tastes Cafe, 2 Burnbank Street, Lake Wendouree, Ballarat
Cost: Free to register. Pay at venue for food and drinks
Bookings
Bookings Close: 5:00 pm AEST, Monday 28 August 2023
EdVic: Ask an Editor! Student Information Session
Date: Friday 1 September 2023
Time: 11.00 am to 12.00 pm AEST
Location: Online via Zoom.
Cost: Free to register. Limited places available
Bookings
Bookings Close: 5.00 pm AEST, Thursday 31 August 2023
EdNSW: Editing work with government departments
Date: Tuesday, 5 September 2023
Time: 6.45 pm for 7.00 pm AEST
Location: Online via Zoom
Details: How can you find work in Australian Government departments? What's the demand for external editors? What's it like to work for government? How can you meet their expectations to be assured of repeat work? Our panellists are experienced in government editing and will share their experiences and advice.
Presenters: Dr Louise Merrington AE and Tristan Viscarra Rossel AE
Dr Louise Merrington AE is a freelance editor and writer specialising in complex content and plain English for government, businesses, universities and non-profits. She holds a PhD in international relations, a BA (Hons) in media and communications/Chinese, a Diploma of Business specialising in non-profit governance, and a Certificate in Professional Editing and Proofreading.
Tristan Viscarra Rossel AE has been editing since 2005. After working from home in the agricultural sector, she freelanced for government communications teams. Becoming an Accredited Editor in 2009 while working at Biotext, she has since divided her time between contracting and freelancing, including more government work. Tristan moved to Perth 4 years ago but remote-works in Canberra.
Bookings will be via the IPEd Events webpage
EdWA: Annual Branch Meeting
Date: Thursday 7 September 2023
Time: 6.00 pm to 7.00 pm AWST
Cost: Free for WA branch members
Location: via Zoom
Bookings
Bookings Close: 6.00 pm AWST, Thursday 7 September 2023
EdVic: Grammar refresher with Linda Nix, AE (repeat)
Date: Tuesday 12 September and Tuesday 26 September 2023 (attendees are required to attend both sessions)
Time: 9.30 am to 1.00 pm AEST
Location: online via Zoom
Cost: Members and reciprocal/affiliate organisations: AUD 210, approx. NZD 207.58; non-members AUD 315, approx. NZD 311.37; student and concession members: AUD 140, approx. NZD 138.40.
Bookings
Bookings Close: 5.00 pm AEST, Tuesday 5 September 2023
EdNSW: No, they can't take that away from me: editing in a time of change
Date: Tuesday, 3 October 2023
Time: 6.45 pm for 7.00 pm AEDT (Note: Daylight saving commences 1 October 2023)
Location: online via Zoom
Details: available closer to the date.
Presenter: Dr Alice Grundy
Bookings will be via the IPEd Events webpage