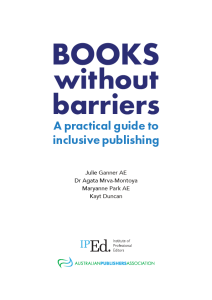 Books without barriers is written and designed by members of IPEd's Accessibility Initiative Working Party. It outlines the barriers to reading that people with print disability may experience if their needs are not supported, and describes how to avoid creating these barriers at each stage of the publishing process.
The guide is in four parts:
Planning for inclusive publishing
Developing content
Describing images and tables
Producing accessible books
The appendices include a style sheet template for accessibility best practice and a glossary.
Books without barriers is co-published by the Institute of Professional Editors and the Australian Publishers Association, with support from the Copyright Agency Cultural Fund.
Download Books without barriers
You can download Books without barriers in the following formats: