CEO's message
"As a group we should feel proud of the work we do. Even if it is just among our peers, maybe we should be making more of a clamour about how good we are. Because editors are some of the most dedicated, smartest and funniest people I know." – Jacqueline Blanchard, award-winning editor
Last month, we had the pleasure of speaking with Jacqueline Blanchard, UQP Managing Editor and inaugural winner of IPEd's 2017 Rosanne Fitzgibbon Editorial Award. Jacqueline generously shared about her experience of editing After Story by legal academic and writer Larissa Behrendt, and the challenges and rewards involved with one of the most complex types of editing – structural editing. Jacqueline shared pearls of wisdom about her approach to the structural editing process, her experience of being a non-Indigenous editor working with a First Nations author and how her successful collaboration with Larissa resulted in the writer deciding to change the ending of After Story. If you'd like to read our deep dive conversation with Jacqueline, check out our Q&A blog post. Or to listen to an insightful and entertaining conversation between Jacqueline, Larissa and UQP Publishing Director Madonna Duffy about the creative dynamic between writers and editors and the development of After Story, check out IPEd and Brisbane Writers Festival's Author/Editor episode #02. This series is supported by the Copyright Agency Cultural Fund.

On 14 April, episode #03 of the Author/Editor series will become available, featuring Wiradjuri poet and artist Jazz Money, and award-winning writer and editor Ellen van Neerven of Mununjali Yugambeh and Dutch heritage. One of the key points that Ellen shares is about the importance of advocating for young authors and editors, and not compromising your own voice. For more information, or to purchase tickets to Author/Editor episode #03, click here.
Discount codes for the Author/Editor series
The Brisbane Writers Festival is offering IPEd members a special reduced price for the Author/Editor video series – a lively collection of 10 monthly episodes featuring conversations between writers and editors which capture their creative dynamic and collaboration. Please find the discount codes for IPEd members below.
AEIPED for a single event
AEIPEDALL for a season pass
The $15 single tickets are $10 after the discount, and the $120 season pass is $70 after the discount. Please note, these codes are for IPEd members only. If you've already purchased a ticket or season pass at full price, please contact Catherine at communication@iped-editors.org.
Brisbane Writers Festival – a program of in-person and virtual events
Brisbane Writers Festival is celebrating its 60th anniversary with a packed program of more than fantastic 200 events taking place from 3 to 8 May. For those of you who live interstate or want to enjoy the festival from the comfort of your home, there is a big variety of virtual events available. These include the online monthly events consisting of the Author-Editor series and the Author-Illustrator series, as well as the Word Play online workshops that drop on 3 May. For more information about the Brisbane Writers Festival, check out the website.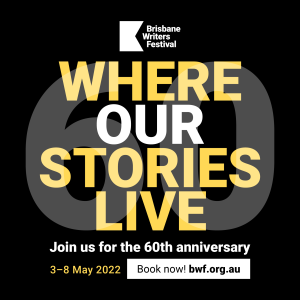 World Book and Copyright Day – 23 April
Over the past year, at a time when many of us have experienced periods of lockdown, books have been highlighted as tools for entertainment, escapism, education and mental stimulation.
UNESCO's (United Nations Educational, Scientific and Cultural Organization) World Book and Copyright Day celebrates the role of books in our lives. This annual event focuses on the importance of reading, fostering children's development as readers and celebrating a lifelong love of literature and integration into the world of work.
This year, UNESCO challenges readers to explore new topics, formats, or genres that are new to you! Its goal is to encourage people to read more, and to have fun doing so!
Books can also be used as a tool for engagement with other book lovers. Speaking of which, if you'd like to join a virtual book club, you could consider our Fiction in Translation book club. This club celebrates translated literature and aims to give readers the chance to discuss the role of translation in storytelling. If you happen to have previously read Season of Migration to the North by Tayeb Salih, translated from Arabic to English by Denys Johnson-Davies, you're invited to join the next book club at 6.00pm (AWST) on Tuesday, 5 April. Or even if you haven't read it, you're very welcome to come along and learn a bit about translation theory and how it relates to fiction. Otherwise, please keep your eye out in future newsletters for the next book to be discussed at Fiction in Translation as well, as the meeting date and time.
Warm regards
Karen Lee
CEO