by Jess Gately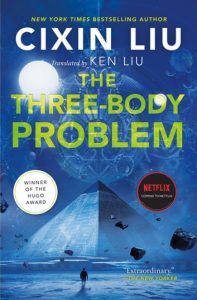 On 7 December, we held our first Fiction in translation book club. The new book club, hosted by Dr Sara Kitaoji and I (Jess Gately) celebrates translated literature and aims to give readers the chance to discuss the role of translation in storytelling and how stories change from culture to culture. 
The club's first book was Chinese sci-fi hit  三体 San Ti  by Liu Cixin, translated into English by Ken Liu as The Three Body Problem. 
As it was the first instalment of the club, a large portion of the discussion was dedicated to talking about some of the challenges associated with translated texts including:
how the translator chooses to translate certain terms and themes

how cultural context comes into play

what extra information readers may need

whether translated works should read as if written in the translated language

the translator's responsibility to the author

how we as readers approach translated texts.
Sara also provided a wealth of information on aspects of the translation like the history and meanings associated with the Chinese logographic script, Chinese culture and history that did or did not make it into Ken Liu's footnotes, and how the books were received in America with readers pushing political agendas about China's government that were potentially dangerous to the author's wellbeing. 
We also discussed how literature across different cultures involves different structures and literary devices and how that impacts on the way translated works are received. We discussed our role as readers of translated works to accept that stories are written and told differently in different cultures and how we must come to translated literature with an open mind, ready to accept different storytelling techniques. At the same time, however, it's important to recognise that no one writer represents their entire country or culture, and we need to be careful not to conflate the two. 
There was so much to cover and not enough time but we'd like to thank everyone who attended and joined the discussion sharing their own experiences and thoughts on both the book and the art of translation. 
If you would like to read further on some of the topics we discussed on the night, a full list of sources we quoted as well as other recommended texts are included below.
Details of the next Fiction in translation book club
Date: 5 April, 2022
Time: 6.00 pm AWST
Book: Season of Migration to the North by Tayeb Salih, translated from Arabic to English by Denys Johnson-Davies.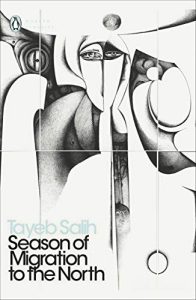 Book blurb: When a young man returns to his village in the Sudan after many years studying in Europe, he finds that among the familiar faces there is now a stranger — the enigmatic Mustafa Sa'eed. As the two become friends, Mustafa tells the younger man the disturbing story of his own life in London after the First World War.
Lionized by society and desired by women as an exotic novelty, Mustafa was driven to take brutal revenge on the decadent West and was, in turn, destroyed by it. Now the terrible legacy of his action has come to haunt the small village at the bend of the Nile.
The story of a man undone by a culture that in part created him, Season of Migration to the North is a powerful and evocative examination of colonization in two vastly different worlds.
If you are an Arabic-language translator and would like to help us host the discussion of this book, please get in touch with me at edwa.president@iped-editors.org.

Further reading 

Literature from mainland China
McDougall, Bonnie S., and Kam Louie. 1997. The Literature of China in the Twentieth Century. Hong Kong: Hong Kong University Press.
A detailed outline of major authors in twentieth-century China and the development of fiction, drama and poetry.
 Some authors to explore:
Lu Xun, Mao Dun, Pa Chin, Yu Hua, Xia Jia, Zhong Acheng (or simply A Cheng/Ah Cheng)

Science Fiction in mainland China
Alter, Alexandra. 2019. "How Chinese Sci-Fi Conquered America." New York Times, 3 December, 2019. 
An excellent overview of Ken Liu's translation approach. It also offers a more nuanced understanding of political concerns, prioritising the safety of both the translator and the author.
Liu, Cixin. 2014. "The Worst of All Possible Universes and the Best of All Possible Earths: Three Body and Chinese Science Fiction." Translated by Ken Liu. Tor.com, 7 May , 2014. https://www.tor.com/2014/05/07/the-worst-of-all-possible-universes-and-the-best-of-all-possible-earths-three-body-and-chinese-science-fiction/
A great summary of science fiction in China and Liu Cixin's own views on the genre today.
Liu, Ken. 2016. "Introduction: China Dreams." In Invisible Planets: 13 Visions of the Future from China, translated and edited by Ken Liu, 15–16. London: Head of Zeus.
A wonderful introduction to an interesting collection of SciFi stories and essays by writers from China.
Liu, Ken, ed. and trans. 2019. Broken Stars. London: Head of Zeus.

China
Jaivin, Linda. 2021. The Shortest History of China. Carlton: Black Inc. 
recommended by one of the book club attendees as a very quick overview of Chinese history.

Jacques, Martin. 2012. When China Rules the World: The End of the Western World and the Birth of a New Global Order, 2nd ed. New York: Penguin Books.
An insightful commentary on Chinese communism and the impact of China's growing economic power and prosperity. (Bit long winded

—

could do with better editing but his lectures and interviews on YouTube are easier to follow.)

Liu Cixin
Blair, David. 2018. "Is the Earth a Dark Forest?" China Daily, updated January 27, 2018. 
Liu Cixin. 2015. The Dark Forest, translated by Joel Martinsen. New York: Tor Books.  (黑暗森林, also known as 三体II, 2009)
Liu Cixin. 2016.  Death's End, translated by Ken Liu. New York: Tor Books. (死神永生, also known as 三体III, 2010)
Baoshu. 2019. The Redemption of Time, translated by Ken Liu. New York: Tor Books
(三体X·观想之; Sān tǐ X · guān xiǎng zhī zhòu; literally, "Three-Body X: Aeon of Contemplation," 2011)
Fan fiction, originally published online in 2010. This optimistic ending to the trilogy, written in a few weeks by an ardent fan in China, became so popular that Chongqing Press published it, with Liu Cixin's permission.

Ken Liu
Liu, Ken. 2016a. "Chinese SF and the Art of Translation: A Q&A with Ken Liu." By Preston Grassman. Posted by Colin Sullivan. Future Conditional (blog). Futures, 20 August , 2016. 
Liu, Ken. 2016b. The Paper Menagerie and Other Stories. London: Head of Zeus. 

TV Adaptations
Ji Yuqiao. 2021. "Too Few Asian Faces? Netflix's 'The Three Body Problem' Cast Announcement Sparks Discussion." Global Times, 1 November, 2021. 
Tian Tian. 2021. "Netflix vs. Tencent with Rival Adaptations of 'The Three-Body Problem'" RADII, updated 25 November, 2021. 

Translation
Nel, Philip. 2004. "You Say 'Jelly', I Say 'Jell-O'?" In The Ivory Tower and Harry Potter, edited by Lana A. Whited, 261–9. Columbia: University of Missouri Press.
Venuti, Lawrence. 1998. "Strategies of Translation." In Routledge Encyclopedia of Translation Studies, edited by Mona Baker, 240–244. London: Routledge.
Venuti, Lawrence. 2008. The Translator's Invisibility, 2nd ed. London: Routledge.

Story Structure in East Asian Narratives
Liu, Yujun. 2017. "Similarities and Differences of the Narrative Structure of Western and Chinese Short Narratives." Journal of Arts and Humanities 06, no. 04 (March): 27-41. DOI: 
Qian, Jianan. 2018. "The Moon is Beautiful Tonight: On East Asian Narratives". The Millions, 17 April, 2018.