Rosie Award winner for excellence in editing announced
The winner of the inaugural Rosanne Fitzgibbon Editorial Award – The Rosie – has been announced as Jacqueline Blanchard for her editorial work on All Fall Down, published by University of Queensland Press (UQP).
Jacqueline edited 50,000 words from Matt Condon's 215,000-word original manuscript of the third book in a non-fiction trilogy chronicling entrenched corruption in the Queensland Police Force from the 1950s.
The award recognises excellence in editing and was launched by the Institute of Professional Editors (IPEd) in honour of Rosanne Fitzgibbon, a founding member of the then Society of Editors (Queensland) in 1990. Rosie, as she was known, was also a Distinguished Editor, as recognised by IPEd, and winner of the inaugural Beatrice Davis Fellowship in 1992.
'The Rosie is a vital step towards greater recognition of editors and the value they bring to the written word,' said IPEd Chair, Kerry Davies. 'It also seeks to recognise and champion the traits of a good editor: diplomacy, management skills, attention to detail, problem-solving skills, research and writing skills, and professionalism and ethics.'
Author Matt Condon has been quick to recognise the impact a good editor has had on his books: 'I have always believed in the benefits of a "tough" edit and learned very early on that good editors, without exception, improved my work. Jacqueline performed a complicated edit that required losing a lot of extraneous material. Her work was so seamless that I barely recognised the cuts. To me, that's a great and dedicated editor; it's all in the alchemy of the hidden carpentry.'
CEO of IPEd, Karen Lee said, 'It goes to show why editors continue to play a key role despite the changing nature of communications. It shows how adaptable, innovative and vital the profession is.'
Judges for the award were Rosie's sister, author Marion Halligan, and two of her former colleagues, Craig Munro and Leonie Tyle.
Jacqueline was honoured to accept the award from Marion Halligan – an author she most admires: 'It is extremely validating to win an award that broadly recognises the unique skill-set that book editors bring to the projects they work on, and publicly acknowledges and rewards that contribution. In the Australian publishing industry it is often remarked that one of the hallmarks of a good edit, and therefore a good editor, is that their work is invisible on the page. The problem for those of us doing this invisible work is that it is hard to put a value on something you cannot see. For book editors, the Rosie is an opportunity to address this imbalance.'
The Rosie was awarded at the 8th IPEd National Editors Conference gala dinner on 14 September, which was attended by Rosanne's three children, her partner Barry Holland, his daughter and her partner.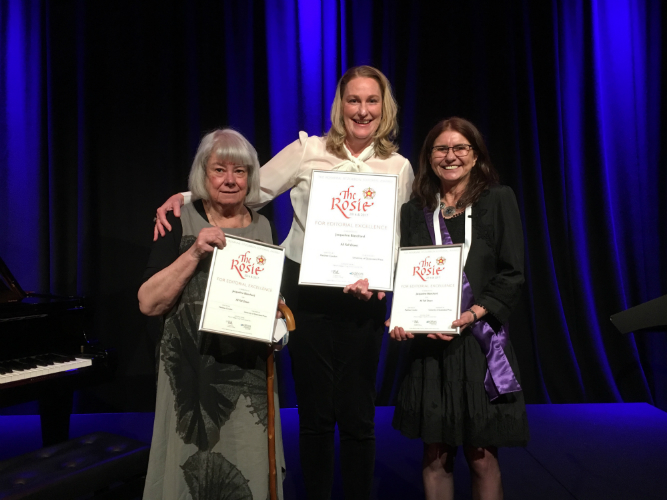 Distributed by:
Mary-Ann Came AE
IPEd Communication Officer
0420 774 614
Contact for interviews:
Kerry Davies AE
Chair, IPEd Council and Councillor for Editors Queensland, and award founder
Tel: 07 3371 2701 or 0423 496 896