CEO's message
I hope you had a relaxing break over the Easter, Anzac and May Day holidays, and the opportunity to spend precious time with family and friends.
As pandemic restrictions continue to lift, some of us may have expected to experience a sense of relief and a return to normalcy – not just physically but also emotionally. Others of us may remain vigilant and concerned about new variants of COVID-19 such as Deltacron.
A term that has been bandied around in the past year is "post pandemic stress disorder" – a condition which might be triggered by loss, burnout, lockdown-induced unemployment or housing uncertainty, isolation, contracting COVID-19 (or seeing a loved one struggle with it).
However, it's not as though these difficulties belong to 2021 and 2022 alone. A number of our volunteers and staff have experienced COVID-19 recently and are struggling through the recovery process.
As we continue to grapple with these issues as an organisation, we'll endeavour to support you in these difficult times. This is a gentle reminder that there have been, and will be, periods where volunteers and staff will be affected and unable to work. The progress of our work may be slow at times and we ask for your patience. We prioritise the health and wellbeing of all our members, staff and volunteers, both physically and emotionally. These are uncertain times. Remember to be kind to yourselves, and to others.
For our new members, here is a recap of some COVID-19 disaster relief resources that may assist if your small business has been affected by the pandemic
2022 Janet Mackenzie Medal winner
A huge congratulations to Dr Renée Otmar, who is this year's Janet Mackenzie Medal winner. This honour is IPEd's most prestigious award, and is conferred on current or past IPEd members who have made outstanding contributions to the editing profession. Dr Renée Otmar has made an outstanding contribution to IPEd and the editing profession over the past 30 years. For more information, check out our announcement.
Brisbane Writers Festival – 3 to 8 May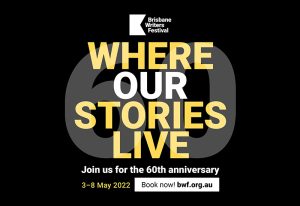 The Brisbane Writers Festival is now in full swing! There's a stellar line of 200 events, both online and in person, and two very special sessions feature IPEd Chair Ruth Davies and Dr Agata Mrva-Montoya, who is part of IPEd's Accessibility Initiative Working Party. For more information, please see our announcement.

IPEd and Brisbane Writers Festival's Author/Editor series continues, with episode #04 being released on 12 May 2022. It will feature Scott Ludlam, former Senator for the Australian Greens, who published his first book on ecology, technology and politics, Full Circle, in 2021. Together with Chris Feik, publisher and editor of Black Inc's Quarterly Essay and Kirstie Innes-Will, assistant editor, they discuss writing and editing political non-fiction. For more information or tickets, please go to the BWF website.
Last month, we had the pleasure of speaking with Ellen van Neerven, an award-winning writer, editor and educator, about ensuring that first-time authors feel empowered during the editing process and the experience of editing writer Jazz Money's debut work, How to make a basket. Ellen, of Mununjali and Dutch heritage, and Jazz, of Wiradjuri heritage, feature in episode #03 of the Author/Editor video series. You can read our deep dive interview with Ellen here.
Don't forget, the Brisbane Writers Festival is offering IPEd members a special reduced price for the Author/Editor video series. Please find the discount codes for IPEd members below.
AEIPED for a single event
AEIPEDALL for a season pass
The $15 single tickets are $10 after the discount, and the $120 season pass is $70 after the discount. Please note, these codes are for IPEd members only.
Warm regards
Karen Lee
CEO