Understanding what makes the delivery of content online different from more traditional media is a handy skill in any editor's toolkit. Our speaker presentation with Lauren Bevilacqua and Mike Lim on Wednesday 2 February was an excellent session to start our 2022 program, brushing up on some simple pointers and opening debate on other more nuanced areas of editing online content.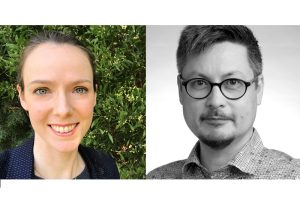 Lauren and Mike split the evening into two sections: the purpose of work and choice of language, and the finer art of working with words for the screen. This was followed by an overview of accessibility and the technical implications and the criteria that online content adheres to.
An editors' work on online content encompasses not only the analysis of word choice, message finesse and reshaping to empower the purpose of the prose, but it must adapt to changing reading patterns, user ambivalence, language simplification, and an almost archaic return of "aesthetic judgement"; in other words, if it looks too hard to read, it won't be read.
The online world now demands that an editor understand the technical accessibility of content. It's no longer OK to just deliver text that reads well on paper. Instead, an editor is required to consider how technical devices such as screen readers will interpret and deliver that content. Mike walked us through alternative text, the critical importance of structured formatting and the repercussions of weak or poor layout. If you thought you could get through your career without having a solid understanding of how Microsoft Word's Styles work, or thought you wouldn't need anything but the spell checker and edit review under the Tools menu, you are sadly mistaken.
Between Lauren and Mike's segments, we can gather that online content editing now absorbs the management and manipulation of simple English, analysis of alternative text, application of styles, clear use of tables and lists, and an aversion to layout that is used simply to make the document look good. To sum up, online content continues to require an intricate, technically choreographed dance of words and language under the guidance of a capable editor.
Luckily for members, our two knowledgeable presenters are IPEd members and are more than willing to share their presentation and resource list.
IPEd's Accessibility Initiative Working Party (AIWP) is also working away in the background compiling a guide specifically for editors, writers and publishers on producing print-accessible documents that share some common strategies with Mike's presentation on online content. This is definitely an area where more information and professional advice are emerging.
If you have plans in 2022 to polish your own editor website, as Lauren tells us she is doing, this presentation will be useful. Plus, it will tie in beautifully with our June speaker presentation by Lisa Callinan on the topic, "What makes a great business website for editors".
Lauren Bevilacqua and Mike Lim's presentation is now available for download for our members from MemNet. Be sure to check it out if you missed the presentation.
By Kayt Duncan