By Stephanie Holt AE
Art and books make natural companions as well as a fascinating theme for the exhibition "Telling Tales" at the Glen Eira City Council Gallery, and a great destination for a casual Editors Victoria summer excursion.
A dozen of us visited on 18 January to check out the exhibition, hear an introductory talk from curator Diane Soumilas, and debrief over a coffee. Given that COVID-19 restrictions required a seated talk, rather than the usual guided tour, we appreciated Diane's choice to organise the exhibition with an unusually open layout and long sightlines, which made it easy to glimpse a wide range of artists and images across the gallery as she spoke. 
It's a lovely space – the old auditorium of the former Caulfield Town Hall – and Diane's enthusiasm for the gallery itself was very evident. While the gallery borrows most of the work it displays, she explained its own collection's focus on the artistic Boyd family who lived and worked in nearby Murrumbeena. The literary connection to novelist brother Martin Boyd was happily noted.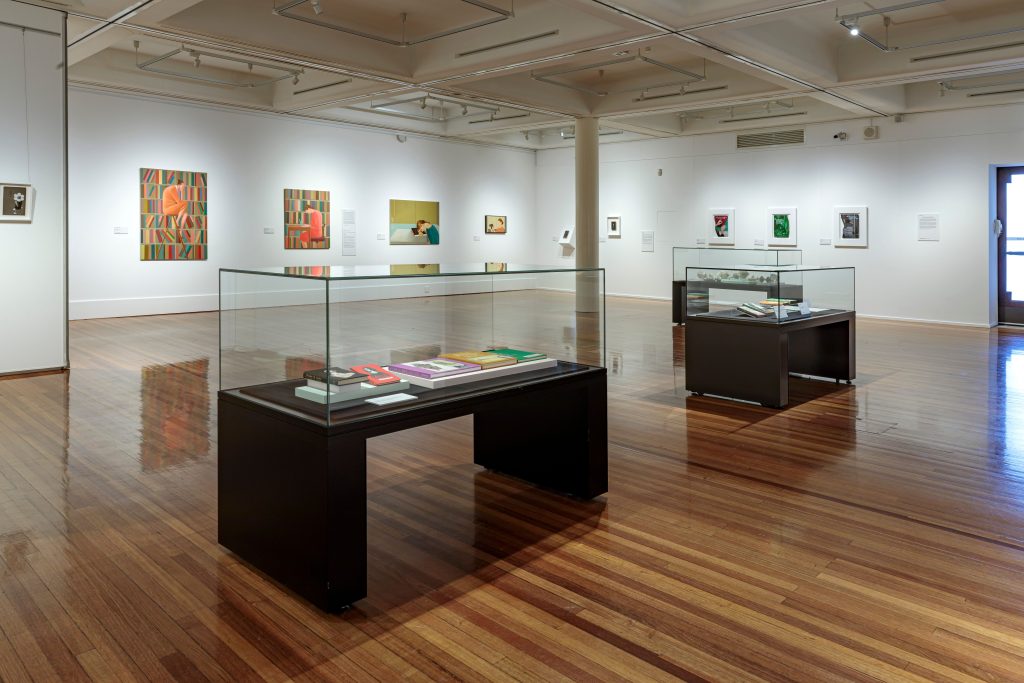 This special exhibition featured work from eight artists who take books as their subject – and in some cases their medium. Nicholas Jones creates sculptural objects from old books, while Tai Snaith builds witty – at times acerbic and political – collages on old book covers. The books they work with aren't random physical objects (as lovely as those might be), but inspirations and integral elements. These works also tickled our editor brains with the intricacies of copyright and moral rights when repurposing hardcopy books in this way.
The mysteries of the bookshelf were explored by other artists, suggesting the perilous but enduring fascination of the physical book, and what books collectively reveal – or obscure – whether that's gaps in historical knowledge, narrative possibilities, or the idiosyncrasies and interests of an individual. We were especially delighted to discover a copy of the Style manual (the 6th edition, we decided after some reflection) in one of Victoria Reichelt's bookshelf portraits.
Penelope Davis's large-scale digital images of old books (cast first in resin) made quite an impression too – Rothko-like abstractions glowing intensely at a distance, they revealed textual and textural suggestions of the original books on close inspection. 
Other artists included Chris Bond, Prudence Flint, Charlie Sofo and Deborah Walker.
Though the exhibition closed 6 February, we encourage members to check out some of the related videos on the gallery's website, or at the links below. You can see one of Tai Snaith's major works, a mural commission for the Russell Street entrance, at the State Library of Victoria.
Videos from the gallery's website

Telling Tales 
Glen Eira City Council Gallery
3 December – 6 February 2022
www.gleneira.vic.gov.au/gallery
Both installation photos by Mark Ashkanasy