By Marie Pietersz (edvic.events@iped-editors.org) and Stephanie Holt (edvic.president@iped-editors.org)

On 25 November more than 40 members and non-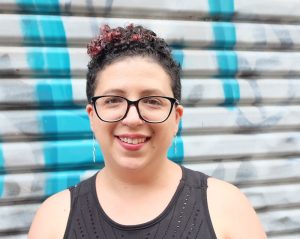 members attended our online November speaker meeting featuring Roz Bellamy, editor of Archer magazine. The event explored how editors can best support inclusion and diversity, particularly for LGBTIQA+ writers and readers. 
Roz's memoir, Mood, about gender diversity, Judaism and mental illness, is forthcoming with Wakefield Press in 2022. Roz's writing has appeared in Growing up queer in Australia (Black Inc.), Going postal (Brow Books), Living and loving in diversity (Wakefield Press), The Big Issue, Going Down Swinging, The Guardian, Kill Your Darlings, Meanjin, Overland, SBS, Seizure and The Sydney Morning Herald.
Roz discussed keeping up with evolving language usage, and commissioning, working with and publishing diverse writers. Eclectic slides in rainbow colours supported the presentation and complemented the topic.
A chart explaining definitions with such acronyms as LGBTTQQIAAP was quite an eye-opener to start the presentation. The use of "queer" as an adjective, noun and verb was a fascinating and useful aside for editors. Authors may use such terms in their manuscripts, and editors need to be well informed to spot any misuse or incorrect use of this term to describe a person whose gender identity is nonbinary or differs from their sex assigned at birth.
Roz described editing queer writing as political, ever-changing, evolving, contentious, challenging, emotional and empowering. The emergence of new forms and genres of writing in the literary space was noted. Literary commodification has made these developments more widespread and intriguing. 
Roz suggested that when commissioning and working with LGBTIQA+ writers, editors should aim to contextualise edits and be flexible, including with style guides and their own working style. Commissioning editors may need to reach out to find new and emerging voices to tap into the whole spectrum of talent out there. It's also important to think about diversity in readerships, and think about a writer/reader space in which queer writers may have straight audiences, just as non-queer writers may have queer audiences. 
Much of this advice reinforced good practice applying to other editorial work and contexts. It was valuable and reassuring to hear Roz discuss examples from their own work. This included times when it can get hard pushing back on something that the writer wants and the editor doesn't, or vice versa. The main advice was that the writer's voice should be maintained.
Roz cautioned that concern for mental health and wellbeing is a must for both writer and editor, and provided contact links for editorial self-care and peer-based support services that editors may tap into if required. Many local and overseas resources were also provided to assist editors in their roles. 
A healthy Q&A segment followed, with respectful and probing questions on the topic. Roz acknowledged that common sense may prevail where intent is not offensive, and noted some instances (such as in medical situations, texts about births, etc.) where context is especially significant. They also urged editors to consider – and be open about – how gender and sexuality may intersect with race, religion, disability, class, etc., and how that shapes references within a "traditional" narrative.
A very informative evening was had by all who were able to hear first-hand from an expert queer writer and editor.
Roz Bellamy (they/them) is a writer, the editor-in-chief at Archer magazine, a sub-editor at Broadsheet and a PhD candidate at La Trobe University in researching life writing.