Our conference is thundering towards us
by Elizabeth Spiegel AE
It's only a matter of weeks until the conference, after which I've promised myself a nervous breakdown. Not really, but I will take a break in Sydney before writing the post-conference report.
Our attendance at the Indie Authors Book Fair was worthwhile, and I hope next year's committee will not only repeat the exercise, but seek out more opportunities to publicise our profession.
It's likely we'll continue to offer a mixture of Zoom and in-person events over coming months. Let your committee know what you want us to organise — particularly if you would be willing to present. 
Tassie Indie Book Fair
by Sheelagh Wegman AE
Self-publishing ain't what it used to be.
Independently published books were often dismissed as vanity publishing and 'pooh-poohed' by publishing houses. Accessible software and digital printing with small printer-publishers now give authors many opportunities to get into print. Independent publishing is particularly relevant in Tasmania where there are lots of writers but no literary agents or mainstream publishing houses. Even in places where larger publishers do have offices, they rarely accept unsolicited manuscripts: straight to the slush pile they go.
A few years ago some independent Tasmanian authors established the Tassie Indie Book Fair to enable independent authors to market their books. The one-day event was cancelled in 2020 because — you know — COVID.
In May 2021 the book fair returned, this time with more than 60 exhibitors in Australia's largest floating building, Brooke Street Pier on Hobart's waterfront. Most literary genres were on display: illustrated children's books, young adult, fantasy and adult fiction, Indigenous and Tasmanian history, poetry, tourist guides, environmental and comic books, self-help publications and migrant and refugee stories. It was a great opportunity for self-publishers and small printer-publishers to display and market their works and services.
EdTas decided editors should have a table at the 2021 Tassie Indie Book Fair to show the advantages of engaging a professional editor. Visits to book fairs and launches often reveal how little many people know or understand about the value of editors and the editing process generally.
On our table we displayed some tools of the trade: style manuals, books on writing and editing, dictionaries and some sample pages showing tracking and comments. We promoted IPEd and the 2021 IPEd Conference and included some freelancers' business cards.
Some members are production editors, taking a project from start to finish; Alex Sutherland put together a display showing the stages of producing a book from rough draft through editing, layout, proofreading, pre-press and final printing and binding. Alongside her display was a stack of finished books for sale.
It was encouraging to see some of 'my' authors successfully marketing their publications — and mentioning their editors. (That's always good.) A few visitors were 'tyre-kickers', of course, but some made serious inquiries about editing and how to publish. We hope some of these inquiries may result in editing projects.
One lovely aspect to the day was the cross-referring — we directed some authors to talk to the printer-publishers there, and several people appeared at our table saying, 'They told me to come to talk to the editors'. Very pleasing.
EdTas is looking forward to the Tassie Indie Book Fair 2022. COVID willing, of course.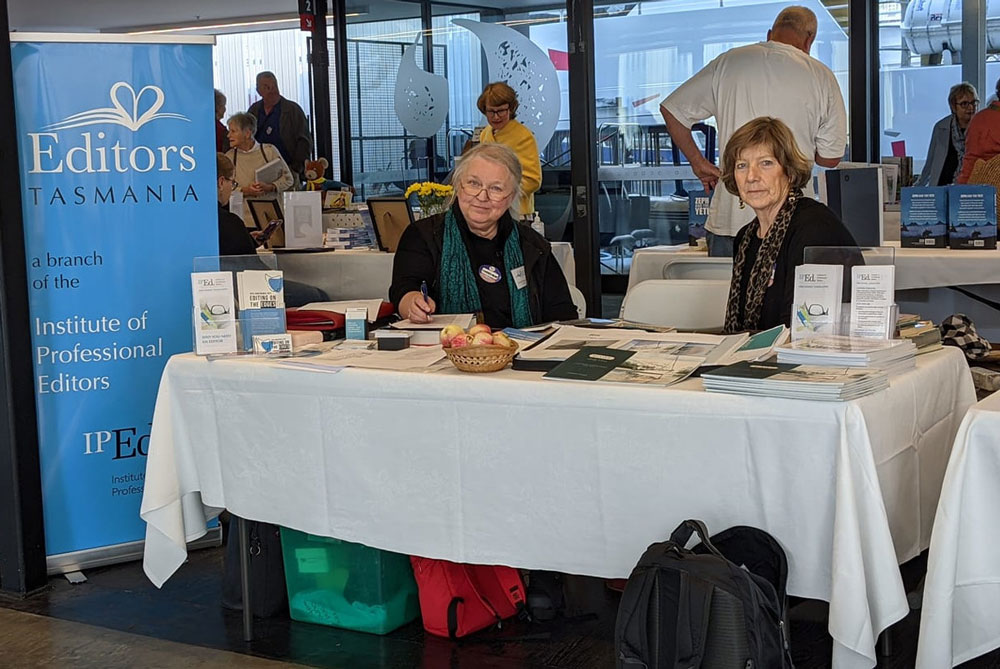 Sheelagh Wegman AE, Alex Sutherland