Note from the president
Well, the year is flying by and we are in June already. That means for many of us it is time for end-of-financial year tasks like sorting out tax returns. If you were lucky enough to have attended our May event with chartered accountant Lauren Thiel, then you are probably well on the way to being organised if you were not already. If you missed it, keep an eye out for our event report. It was great to see such a strong turnout for what is probably not a favourite topic and Lauren did a fantastic job of making the evening engaging and practical.
Back by popular demand in July will be our book club! Details will be out soon, but now might be a good time to start reading something to bring along. It could be something new or an old favourite. If you are stuck for ideas, check out some reading recommendations from SA members later in this newsletter.
Lastly, your SA branch committee is busily planning events for the rest of this year, but we appreciate that some members may be missing our in-person events. If you are interested in catching up with other members or maybe meeting some new members online, I would love to help. Send me an email at edsa.president@iped-editors.org and I will be in touch.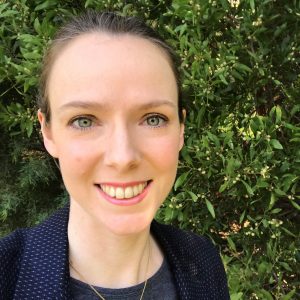 Lauren Bevilacqua
Branch President
edsa.president@iped-editors.org

New member profile: Selena Ewing
Q. How long have you been an editor and how did your career begin?
A. I have been writing and researching for about 20 years, but increasingly I found that colleagues would ask me to edit their work. I love editing because I never get tired of reading and learning. Over the past three years I have found myself editing PhD theses, tertiary level reports, essays and submissions for friends and their networks, in addition to my usual work. During COVID-19 I lost most of my freelance ghost-writing and research support work, because my clients' businesses were severely impacted. I realised that I did not have a resilient, forward-looking business plan. So, I have decided that 2020 is the year for me to formalise and build my editing business.
Q. What type of editing makes up most of your work?
A. Academic editing, articles, and parliamentary submissions.
Q. What aspect of the profession do you find most challenging?
A. To me, the most challenging parts of being a freelancer are all aspects of administration. I do not enjoy paperwork and record keeping. I'm always looking for recommendations for a good system to help me with that.
Q. How would you like to build your skills as an editor?
A. I would like more advanced formal grammar training. I would also like to train to a much higher level in medical and life-science editing, as this constitutes much of my work at the moment and I would like to take on more.
Q. What do you like about being a member?
A. Meeting new people and accessing webinars! I cannot stress enough how much I enjoy meeting new people. Also, learning more about marketing has been extremely valuable, something that does not come naturally to me.
Selena Ewing is an academic editor and writer, emerging from years of mostly anonymous ghost-writing, editing and research. Find her at @SelenaEwingED (Twitter), selena-ewing-EDWR (LinkedIn), or selena.ruth.ewing@gmail.com.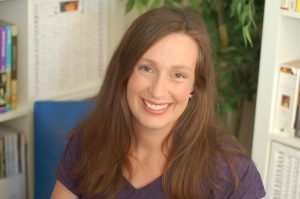 Photo credit: Selena Ewing
Communications report
by Lauren Pitman
Get in touch!
If you would like to send in a piece to be published in the newsletter and/or on social media, please email me at edsa.comms@iped-editors.org. Your submission could be in text, a photo or series of photos, or you could record a video – it is up to you. Get in touch to have a chat, and I can provide more questions and ideas if you would like.
Visit us on social media, like and follow our pages, and share our events. We are really keen to build our public profile, especially to those who share common interests or are looking to hire an editor – we want to be easy to find.
Find Editors SA on Facebook (http://facebook.com/EditorsSouthAustralia/) and Twitter (http://twitter.com/EditorsSA).
Improve your financial finesse, with Lauren Thiel
by Lauren Pitman
As you read in Melanie's informative write-up, Editors SA hosted 'Improve your financial finesse', an event presented by Lauren Thiel, chartered accountant specialising in creative industries. Lauren gave us helpful tips for preparing for tax time as editors (and writers, indexers, manuscript assessors, etc.) to get the most out of our returns.
We were thrilled to have local and interstate IPEd members, and Writers SA members, join our finance event. With help from Editors SA President Lauren Bevilacqua (yes, we collected all the Laurens!), we were able to organise affiliate ticket pricing for Writers SA members for the event, and Writers SA shared our event in their newsletter and on social media. It was great to be able to share this event with Writers SA, as we really want to strengthen the relationship between writers and editors at a local level, to share resources where we can, and help each other out. This event also worked towards our aim to spread the word about Editors SA and IPEd in the local community, so that those looking for editors (eg. writers) can learn about us and find us, and we can share our knowledge and professional development opportunities (eg. workshops) with those who might need them, even if they are not editors.

Lauren Pitman is an Editors SA committee member and the Communication and Marketing Coordinator and can be contacted at edsa.comms@iped-editors.org. 
A Quibble of editors
by Karen Disney DE, Pamela Ball, Celia Jellett DE, Kathie Stove DE, Loene Doube DE, Rosemary Luke AE, Susan Rintoul DE, and Holly McCausland
A group of past presidents and founding members of the SA Society of Editors still catch up every now and then. Just before Christmas they met at the Mockingbird Lounge in Glenelg, appropriately surrounded by books.
These are the editors who made sure the embryonic SA society survived and thrived. After contributing years of their time to the editing cause, they are now quite happy to have passed on the baton, and take a quiet pride in seeing how much has been achieved.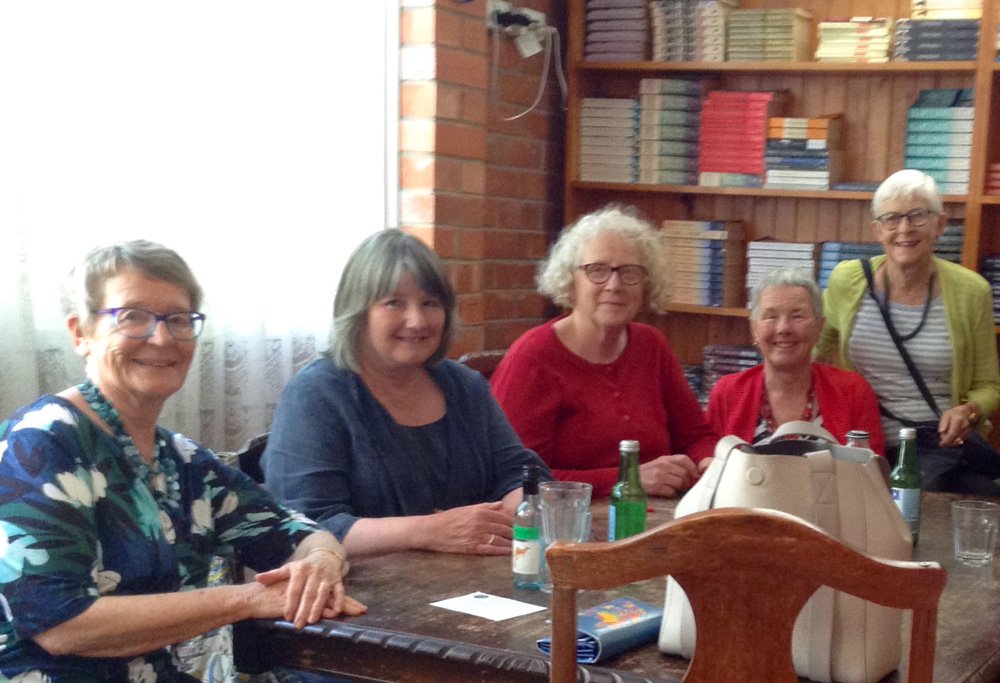 (L−R) Pamela Ball, Celia Jellett DE, Kathie Stove DE, Loene Doube DE, Rosemary Luke AE
Photo credit: Karen Disney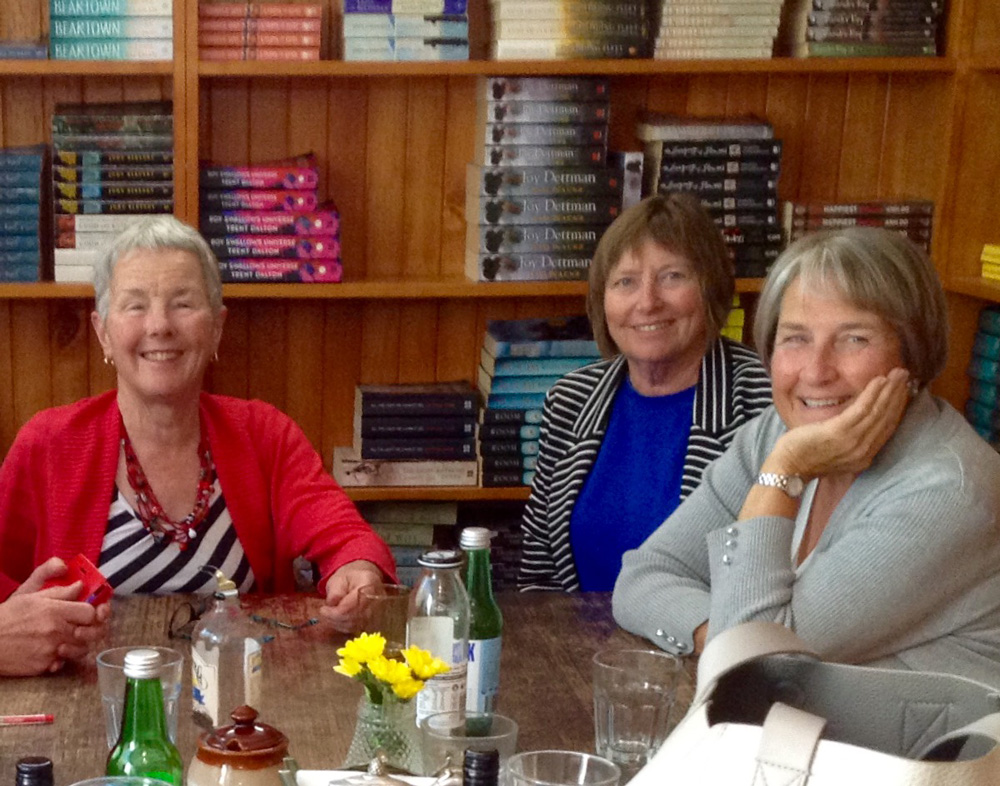 (L−R) Loene Doube DE, Susan Rintoul DE, Karen Disney DE
Photo credit: Karen Disney
Here are a few reminiscences:
Pamela Ball (SA steering committee; inaugural president 1990−1993; numerous committee roles, especially professional development, between 1994 and 2014; honorary life member)
In 1988−89 a group of about ten editors got together from time to time at the invitation of the late Jenny Walker, an experienced and respected editor, to discuss the feasibility of setting up a South Australian society of editors. The inaugural meeting of the Society of Editors (SA) Inc., was held in March 1990, at which I was elected president. Membership reached 100 quite quickly, mainly through word of mouth. We established a newsletter ('… the word'), held regular members' meetings and, probably most importantly, made sure that members had access to relevant and affordable professional development.
The early 1990s were a time of editorial revolution. Out with the old tools – red pen, blue pen and bottle of white-out − and in with some fairly clunky PCs and Macs that kept on being superseded by smart new models. Out with typesetters and galleys and in with desktop publishing. In this scary and expensive time, for freelancers in particular, it was very reassuring to have a (mainly) sisterhood to consult and commiserate with They were also a source of professional development, not just in matters of editing but also in layout and graphic design because suddenly we had to defend ourselves against the untrained hordes who offered their services across the whole publishing range.
At the same time the publishing houses were vanishing before our eyes and "outsourcing" was the commercial buzz word − even more reason to appreciate the camaraderie of a society when you're sitting alone with your computer and only the cat to talk to.
And the technological revolution marched relentlessly on with emails, the internet, online publishing, website development, social media, smartphones … Panic stations – how to keep up with this juggernaut of innovation? Will editors become obsolete?
Well, no, we thought, as long as we maintain our usefulness. We have to make clients and potential clients realise that meaning matters. No point in having a glossy new website or a traditional company report, for that matter, if the target audience can't understand it.
So, what do we do to promote our value? Why not form a critical mass with the other editors in Australia? We can establish rigorous standards for accreditation and through a nationally funded information program we can let all our clients and potential clients know that professionally recognised editors are indispensable.
Now in 2020, we can look back with satisfaction at so many objectives achieved. After almost 30 years our SA society has developed strong wings to move on and join the others in IPEd's plan to maintain the relevance and strength of editors in keeping Australia gobbledegook-free.
Celia Jellett DE (committee member 1990−1997, 2005–2012; newsletter editor; honorary life member)
When the society began, I was a freelancer and welcomed the opportunity to socialise with other editors and find out about the range of work they were doing and even compare notes. I was working with the late Jenny Walker at the time on some projects at State Publishing, so was an early recruit to the society.
I wasn't the first editor of '… the word' but worked on it for many years. I recall that the finished version, only two A4 pages, was checked by every committee member (no pressure) before it was printed and then stuffed into envelopes by the same committee members and posted out.
In 2006, four of us in the SA society (Susan, Karen, Kathie and I) were chosen to join a national group (the Assessors Forum) that was to advance an accreditation scheme for editors. We met in that year in Melbourne, and fairly quickly adopted an exam rather than a portfolio assessment or other method. This group provided a pool of exam writers, reviewers and markers. Appointing these representatives from each society, later called distinguished editors (DEs), was the starting point for the accreditation process, which produced the first accredited editors (AEs) in 2008.
I was a member of the markers panel in 2008 and 2009 for the first and second exams. Markers attended a face-to-face meeting for each one, the first in Sydney at Macquarie University and the second in Adelaide at the CWA. It was a great experience to meet other DEs and society members from all the states and territories.
Karen Disney DE (SA steering committee; president 1993−1996; Accreditation Board member 2005–2012; chair Accreditation Board 2008; honorary life member)
I remember being rather nervous about taking over from our very competent first president. However, under Pamela's leadership the committee had established clear objectives for the society, and there was a willing band of volunteers to maintain the momentum.
We found a permanent home for meetings at the headquarters of the SA Writers Centre in Rundle East, an arrangement that worked well for many years as it had not only meeting rooms but also a central atrium for larger gatherings, so useful for workshops. Former Premier Don Dunstan launched our first freelance register there.
My memories are of happy times, forging friendships that have lasted until the present. Yes, we put in a lot of hours, supporting the moves towards establishing a national body, standards, accreditation, etc. but we relished the chance to work with so many competent and impressive editors in other states.
The biggest year for me was 2008, when the Accreditation Board, backed by the Assessors Forum, decided to launch the first exam. All that year the board teleconferenced every two weeks in the countdown to the October deadline, working through a long action list to finalise budgets, a procedures manual, exam writing and marking teams, exam venues, workshops and much else. We set a cracking pace, with the wonderful Amanda Curtin churning out the minutes of each meeting so swiftly that they should have been called 'seconds': within 24 hours everyone knew what their action points were for the next meeting.
In the end, 171 editors around the country sat the exam on 18 October 2008, showing the strength of support for an accreditation process. It was a tougher exam than many expected, leading to some modifications the following year. However, it meant that we had our first cohort of accredited editors, and how proud they were of this achievement.
Kathie Stove DE (vice president 1993−1996, president 1996–1998, convenor standards working group 1998–2001, newsletter editor 1998−2001, committee member 1992–2001; honorary life member)
I was the third president of the society and the first freelance editor to be president. I was not in the original group who set up the society in 1990 but joined soon after.
When I was president, we introduced the survey of members and the three-year plan: goals and strategies. We also set up the first website, which was a big deal at the time. Over the years I've also run workshops for the society, most recently one on science editing.
The national body, now IPEd, began as the Council of Australian Societies of Editors and the first CASE meeting in Melbourne, which Karen and I went to, was in August 1998, when I was president. I somehow put my hand up to be convenor of the working group that developed the first (and best!) Australian standards for editing practice. Over nearly three years, 1998–2001, I had the enormous pleasure, and challenge, of herding six very strong-minded women from across Australia. I spoke at the launch of the standards at the 2001 Canberra conference. Producing them is one of the proudest achievements of my editing life and that first edition is a fitting tribute to the late Janet Mackenzie, who was the one who 'cracked' the structure.
I've done various other things for IPEd: marked for the first two exams, as Celia describes; managed and wrote some early communications; went to lots of meetings that have now blurred; and most recently have been on the Style manual working group. I've given presentations, talks and workshops at national conferences over the years.
For the 2009 Adelaide conference, I proposed and organised, and led the winning negative argument, in the debate which closed the conference: "A writer without an editor is like a fish without a bicycle" (proud of that too).
I think I was the first South Australian to gain the BELS (Board of Editors in the Life Sciences) accreditation in 2004, and I consciously promoted it to other members who I thought would benefit from it.
Loene Doube AE (past president, treasurer; IPEd councillor and director; numerous committee roles; honorary life member)
I joined the society in April 1990, its first year. In fact, I moved from Canberra to Adelaide just when Loma Snooks (Style manual 6th edn), who had been a key member of the SA steering committee, moved the other way and helped set up the Canberra society.
I joined the committee (don't know when) for a couple of years, then dropped off, and rejoined a few years later. I was treasurer for three years, president for three and then one or so more. I have been IPEd councillor (now director) for three years or so, but must step down at the next AGM because my time is up.
I loved being treasurer (straightforward, useful and behind the scenes), warmed to being president the first time (good for me, more confidence in public speaking – felt as if I took a leadership role) – but struggled the second time because behind the scenes we had trouble keeping activities going (volunteer burnout).
In 1996 Pamela Ball and a few of us (including Jo Mason, Susan Rintoul, Rosemary Luke) organised the Style Council Conference in Adelaide, the precursor to the national conferences now under the IPEd banner. I am sure this prepped us for the work of hosting the 2009 conference.
I sat (and passed) the first exam.
The society has been very good to me: I have gained skills and confidence. In the early days I got freelance work through 'networking' (a term unknown to me then) at meetings. As president, I put a high value on this kind of linkage and tried to bring people together where work might be in the offing. Of course, officially as president I couldn't recommend any one person, but networking at meetings was a good way.
Together we've contributed to setting up CASE, accreditation, organising the best conferences, contributing substantially to the development and redevelopment of the standards, moving to a national organisation and maintaining a vibrant, valuable local society/branch of IPEd.
Rosemary Luke AE (president 2004–2007, IPEd council 2007−2012, chair IPEd 2010−12; honorary life member)
I joined the society in 1992, inspired by a public service editing workshop run by the late Jenny Walker, and because I had started working as an editor at UniSA.
I joined the committee when Gina Inverarity was president because I was interested in accreditation, about which national discussions were underway. Gina was trying to do everything: president, CASE, accreditation working group (AWG); so I offered to take on the AWG. That was how I got to meet wonderful interstate editors like Janet Mackenzie, Ed Highley, Virginia Wilton and many others, who have stayed friends.
I became president after Gina and during that time we revised the society's constitution to make everything even more businesslike with better governance. And I think this was when we set up freelancers' lunches.
I recall that I persuaded the slightly reluctant group who attended the 2005 conference in Melbourne that we should hold the 2009 conference in Adelaide, because my experience at the university was that conferences make money.
Thanks to our frugality, with Susan Rintoul as leader, we made a lot of money − and ran the best conference! Again, Susan was being president, conference chair and CASE representative, so I took on CASE, which quickly became IPEd.
In 2012 I wrote a paper pointing out that IPEd couldn't go on as it was, relying on volunteers who were working huge, huge hours. For example, I remember Rowena Austin and I creating the initial IPEd website as well as taking on website maintenance, marketing, publicity and communications. Other people wrote and marked exams, set up and ran the mentoring scheme, developed thesis-editing guidelines, all on top of their normal work and other responsibilities.
My observation is that working on the local committee and the national council and working groups was an excellent form of professional development and a great way to make lasting friendships based on great respect for others' skills and professionalism, on shared exhaustion and a lot of laughs (and wine).
Susan Rintoul DE (president 2008−2010, numerous committee roles; honorary life member)
I joined the society in the early 1990s, when my husband Bill and I moved from Canberra and set up our publishing house, Seaview Press, at Henley Beach. Both of us held different positions on the committee, Bill as treasurer.
I became president in the year that IPEd was incorporated and the first accreditation exam held, bringing our committee a lot of extra work. On top of that, our SA society had volunteered to host the IPEd national conference in 2009. Everyone involved put a great deal of time and energy into making the conference happen. We earned a good profit from it, and I think everyone was happy with the results.
[Note from the rest of us: Susan is far too modest about her role. She put an incredible amount of energy as president into encouraging members to vote for the establishment of IPEd, to support accreditation and to contribute to the IPEd conference. She also organised the society's 20th birthday celebrations at Ayers House in 2011.
Susan's energy and positive attitude were invaluable at a time when many key issues were being debated and some of us 'oldies' were drifting off in other directions. She was always enthusiastic about the society's endeavours, always putting her hand up to help and volunteering her home for working bees. She was the glue that held things together at a critical phase.]
Susan also found time to teach at Adelaide College of TAFE and completed many writing commissions independently of Seaview Press. [A most impressive record.]
Holly McCausland (committee member from 1992, president 1999−2001)
When I joined in the early 1990s, the SA society had well and truly established itself, offering support and information for practising and aspiring editors. I joined the small committee that looked after a busy agenda managing membership and finances, regular meetings (with speakers), a wonderful printed newsletter,'… the word', workshops on aspects of editing and a periodically published freelance register. Part of being on the committee was meeting at someone's house to fold and stuff the newsletter into envelopes, address them and deliver them to the post office. The committee also organised the highlight of the year: a Christmas dinner that included an unfailingly hilarious caption competition.
There were enormous changes in editors' work contexts at this time, driven by rapid developments in word processing and desktop publishing, printing and communications technologies. Blue pencils, typing pools, index cards and literal cut-and-paste were dodo-ed out of existence. The society developed a website and ran workshops to help members embrace change, and now it is almost impossible to imagine how we did some things before. But I sort of miss those envelope-stuffing sessions, just chatting and gossiping about matters editorial.
The establishment and early activities of the society happened because of shared vision, goodwill, imagination and persistence leavened by humour and camaraderie. These qualities have also contributed to the more recent national developments that promote and support editing.
It was a privilege to be a small part of this history.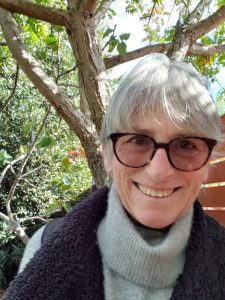 Photo: Holly McCausland
Photo credit: Holly McCausland
What our members are reading
In this section, you will find short and sweet book reviews by our members. If you have read something you want to tell your fellow members about, email me at edsa.comms@iped-editors.org.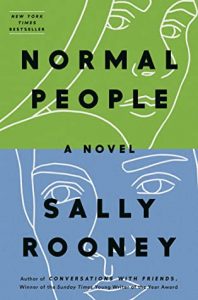 Normal People by Sally Rooney
by Sumudu Narayana
Sally Rooney's Normal People follows the friendship and romance of Marianne and Connell from high school in a small Irish town through to university in Dublin. They're not officially 'together' the whole time, or even most of the time, but they always figure in each other's lives in a significant way.
Connell is poor but popular, sporty, and has an easy manner that disguises his shyness, while Marianne is wealthy but disarmingly frank but despised at school. They are both very intelligent, Marianne openly and Connell secretly, which drives their chemistry and ability to talk to each other beyond their physical relationship. Connell insists their relationship remain secret, which Marianne accepts without question, finding it both exciting and shameful. This power dynamic continues at university even when Marianne and Connell swap social statuses.
The story jumps forward three weeks or six months, as needed, excising all the uneventful bits of life and leaving us with the most pivotal and emotionally intense moments for these characters. Secondary characters enter and fade without much action, allowing the interplay between Connell and Marianne, and the influence each of them has on shaping the other, to be the primary focus. In addition to the central relationship are issues of class and intellectual integrity.
Normal People is an impossibly beautiful, tender and intellectual examination of youth and love, and is a story that demands to be read in one sitting.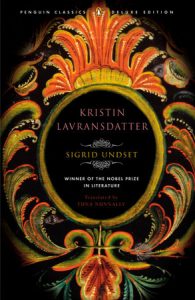 Kristin Lavransdatter by Sigrid Undset
by Selena Ewing
Kristin Lavransdatter is an epic trilogy by Sigrid Undset, a Nobel-prize-winning Norwegian author. Originally published in 1922, it was translated into English in 1997. 
This novel follows the heroine (or anti-hero, I would say), Kristin Lavransdatter, from her early childhood until her death. The setting is Norway in the 1400s. Romance, political intrigue, action and beautiful landscapes – they are all here. The main themes are the brutality of life in the Middle Ages, her turbulent marriage, and the conflicts between her religion and everyday realities.
I am a big reader of non-fiction, so I will read only perhaps three novels a year. This book, though, I read every year. I just love the lively descriptions of day-to-day life in medieval Europe. A woman's life was so different, yet also much the same as ours today.