President's report  
by Christine Atkinson
It's suddenly quite chilly in south-east Queensland, which is a good reminder that our winter Annual Branch Meeting (ABM) is only a few-and-a-bit weeks away. (Awkward segue?)
EdsQ, and all branches in Australia and New Zealand, are run by volunteers and while the EdsQ committee is a passionate group of people, we don't want you to think you can't also join in the fun.
Not ready to join the committee? That's okay. Neither was I until I saw a little newsletter notice calling for someone to organise the monthly member events. And that led to putting my hand up for the conference committee, and here I am four years later. But don't let that scare you off. There are plenty of ways you can get involved in EdsQ, or IPEd more broadly, that don't require attendance at monthly committee meetings.
We love helpers of all kinds. Thanks to our new regional coordinators, we've now got new helpers around the state offering to host networking get-togethers for members. You could write an article for Gatherings — interview a colleague for a profile piece, share your own editing journey, or review a book you think would benefit members. Our newsletter coordinator Julia would love to hear from you.
And if that's not your cup of tea, you could put your hand up for the IPEd Mentorship Program, offer to speak at a branch event, or see if you have any specialist skills to share through a workshop or IPEd subcommittee. Start a discussion thread on the IPEd discussion forum via MemNet.
If any of that takes your fancy, let us know. And if you think you might like to one day consider joining the committee, tell us that too! Committee meetings are entirely via Zoom, so regional members can participate. We even had our then-VP Ruth joining us online from the Netherlands a few years ago.
And if you're not ready for any of that yet, or you don't have the time, I'd still love to hear about what's happening in your editing life. Share your good news, brag about a win, tell me your new favourite word. Get in touch via edqld.president@iped-editors.org.
Notification for the ABM will come out in July, so there's still time to think about it.
Brisbane cuppa catch-up
We've been north. We've been west. Now we're heading to the southern Brisbane suburbs. We're hoping you'll join us for a brew at 9.30am on Wednesday 9 June at Cenzo's Cafe + Bar, on Lumley Street, Upper Mount Gravatt.
We had a small group of Brisbane EdsQ members at the cuppa catch-up on Wednesday 12 May, in Oxley, Brisbane, and there was a really rewarding discussion. We had two editors who work in the academic and scientific space, one who works in the language and translation space and one who mainly works in fiction. The interest in each other's work was refreshing, and a surprising amount of valuable crossover discussion followed, about plagiarism and copyright, for instance. We exchanged information and experiences in both of these spaces. As well, we chatted about several other subjects. It's refreshing to be able to meet face to face.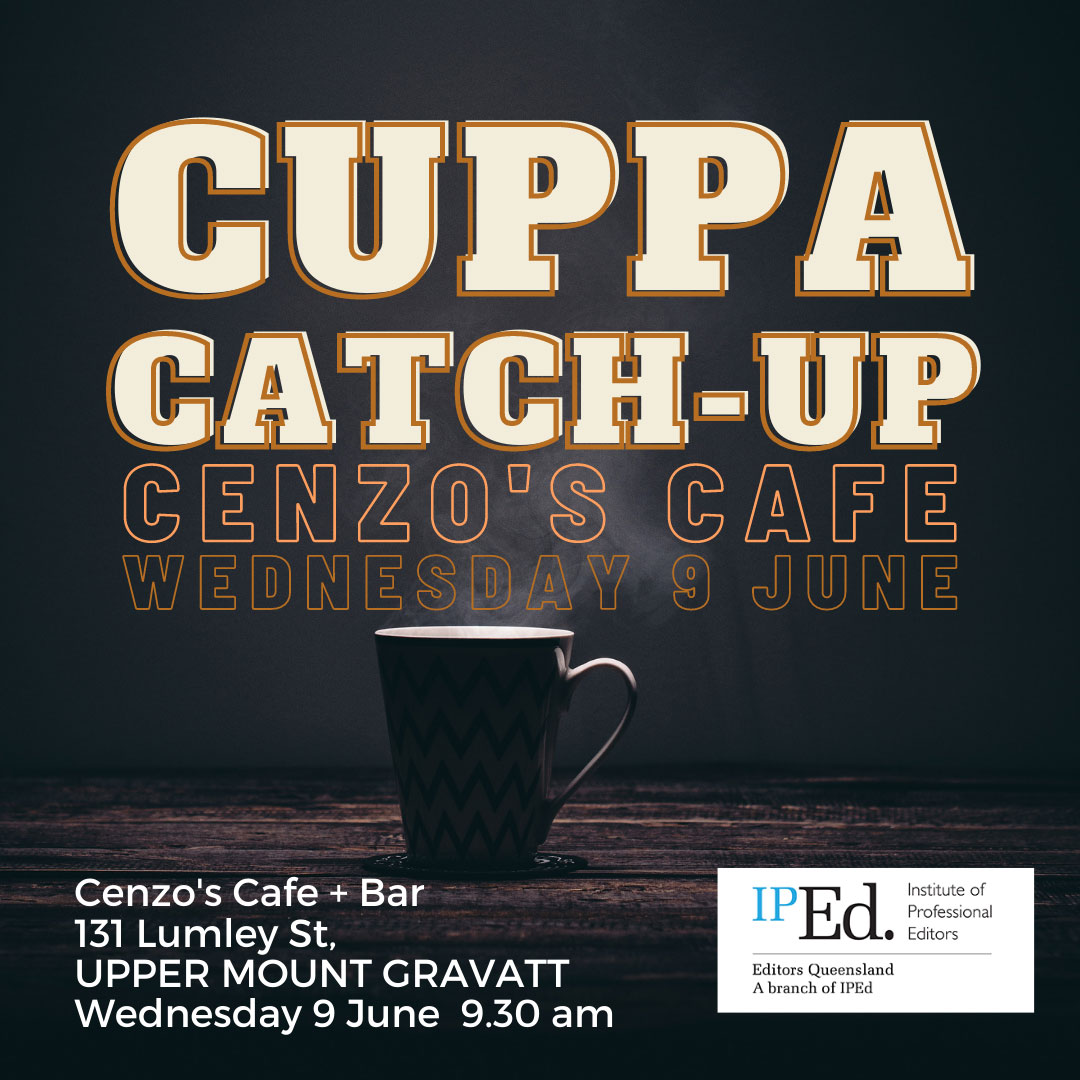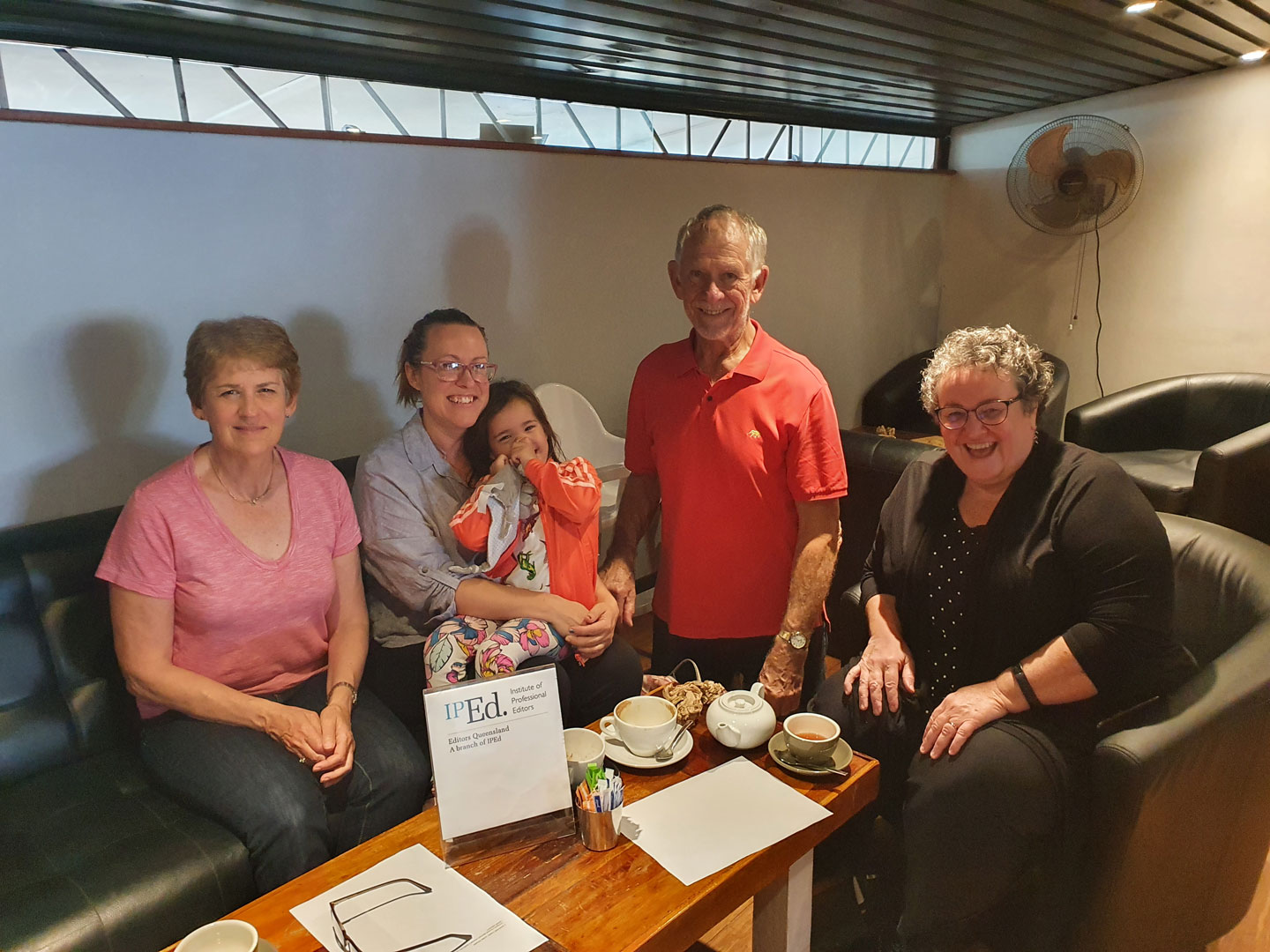 Those who came were Laurel Mackinnon, Sue McQuay, Tamara Here and Olivia, and Ian Mathieson. In answer to Ian's question whether Olivia would like to be an editor when she grows up, she replied, 'No. I want to be a butterfly.'
Events
by Kayt Duncan
There's plenty to see, hear, learn and enjoy all the way through June for Queensland members.
The IPEd Conference at the end of June is a calendar highlight for IPEd members. With heads full of new or increased knowledge, July has been selected by the Events team to let our hair down and socialise. Mark your diaries for our in-person, and totally face-to-face, Christmas in July Dinner on Wednesday 7 July at the Ship Inn, Sidon Street, South Brisbane.
Details for our regional July social dinners will be released as they come to hand.
The Annual Branch Meeting is scheduled for Wednesday 7 August. Now before you all write that date off… you won't want to miss it because following the official duties the Events team is lining up a humorous debate. There's an extra twist. You'll have to hold the date to find out.  It's a doozy!
September and October might sound like months away, maybe because they are. But check out these two speaker presentations we have also locked in for you:
September: Grace Lucas-Pennington from BlackWrite, whom you might have heard at the Brisbane Writers Festival during the Editors Panel. She was speaking alongside IPEd's CEO.
October: Our rescheduled evening on Crime writing with Meg Vann.
Join the private EdsQ Facebook group to stay up to date with everything happening around the state.