From the president

By Stephanie Holt AE (edvic.president@iped-editors.org)
It's December already! Where has this year gone?! You're probably already savouring mangled messages on seasonal ads, enjoying a few serendipitous editing errors on Christmas cards, and perhaps looking forward to some summer reads.
We have a great end-of-year online event coming up for members, with guest speaker Evelyn Araluen. We're not going light'n'easy for December, with a prize-winning poet and editor who skewers sexism and racism in the Australian literary scene. But anyone who's seen her at writers festivals and events knows that comes with a wicked sense of the ridiculous and down-to-earth humour. We hope to see you there on Thursday 8 December. We'll wrap the evening with a few frivolous seasonal activities for members.
Editors Victoria also has some nice suggestions for this gift-buying season, with books from our writer-members.
We love having student members active in the branch, and designing activities especially for student editors. Last month we had a lively turn-up for our latest "Ask an Editor!" session. The questions from the attending students from Victoria and beyond were so interesting, we've decided to share some of them (and some of the panel responses) in this Gatherings.
Finally, congratulations to those Victorian members who are now Accredited Editors. Accreditation is a great way to boost your business, a worthy acknowledgement of your skill and expertise, and a positive contribution to the profession as a whole. The bar is set high, covering a broad cross-section of editorial practice, and even strong editors may struggle to get their accreditation first-time round. Enjoy this commendable achievement.
Now … if I could just decide whether to sign off with a Joyous Noel or a Joyous Noël …
Vale Basil Walby
6 January 1928 – 5 November 2022
Editors Victoria is sad to acknowledge the passing of Basil Walby, who was President of the Society of Editors (as Editors Victoria then was) during the 1980s.
Basil Walby was editor-in-chief to the CSIRO from 1971 to 1987. He managed the Australian Journal of Scientific Research, CSIRO's book publishing program, and a printing unit set up to produce journals, technical publications, annual reports and publicity material. He also oversaw liaison with comparable science publishers in Australia and overseas.
Basil was a founding member of Editors Victoria and served on the committee for many years, twice as president (in 1974–75 and 1982–83 with Teresa Pitt). He was treasurer from 1976–78, and training officer in 1977–78 (with Anne Godden) and 1982–83 (with Tessa Jones and John Bangsund). Basil was a member of the Style Manual review committee and the inaugural RMIT advisory group for the Graduate Diploma in Editing and Publishing. He was an inaugural recipient of Honorary Life Membership in 1987.
Teresa Pitt remembers: "Basil was a jovial, enthusiastic and supportive colleague on the EdSoc committee."
Susan Keogh writes:
"I remember him as  incredibly warm, friendly and welcoming at the monthly SocEds Vic (as we were then) meetings – particularly to those who were young and inexperienced (yes, that was me).
"He was also a humble man, and generous. At the 25th anniversary dinner, there was a quiz, with each table competing as a team. Basil was on a particularly formidable table of other ex-presidents and HLMs. Competition was willing: Cambridge University Press had provided six copies of David Crystal's English language as prizes. The then president (me) had the task of marking the quiz (I'd also written it). As I was marking (and other people were enjoying chit-chat or dessert or something), Basil came over to see how I was going. 'It looks like your table is going to win', I said. 'Oh no!' he said. 'That can't happen!'  As it turned out, his team did not win (they were runners-up) – but that's the kind of person he was.
"I misheard his name when I was first introduced, and thought it was 'Wallaby'.  I have to say, his twinkling eyes and slightly bushy hair – and the mo! – did remind me of some friendly bush animal."
Colin Jevons writes:
"Basil was a gentle, well-read and delightful colleague.  I don't recall him ever wasting a word in any conversation. I do very much remember when we first met – I nervously went to my first Society of Editors meeting (in 1980) to try to find out something about the industry I'd only just joined, not realising that it was the AGM, and found myself a member of the committee by the end of the evening.  Basil was always there with quiet and supportive guidance and was deservedly one of the earliest Honorary Life Members of the Society."
New members
This month, EdVic is pleased to welcome a new associate member, Peter Loupelis.
We look forward to seeing you at our workshops and events and encourage you to make the most of IPEd's networks for news and support.
Alex Miller in Castlemaine – an editor get-together
In Castlemaine on Tuesday 1 November, a lovely group of 11 (10 Editors Victoria members and a guest spouse) met for a get-together and to hear Alex Miller discuss his latest book, A brief affair.
The editors came from Fryerstown, Castlemaine, Maldon, Daylesford, Melbourne and four from Bendigo. Some were first-timers at a regional EdVic social gathering, and the Bendigo editors were especially pleased as they had not met each other before.
The attendees enjoyed a good hour of table chat and then an enjoyable author talk and some debriefing.
Thanks to Northern Books who facilitated the author talk.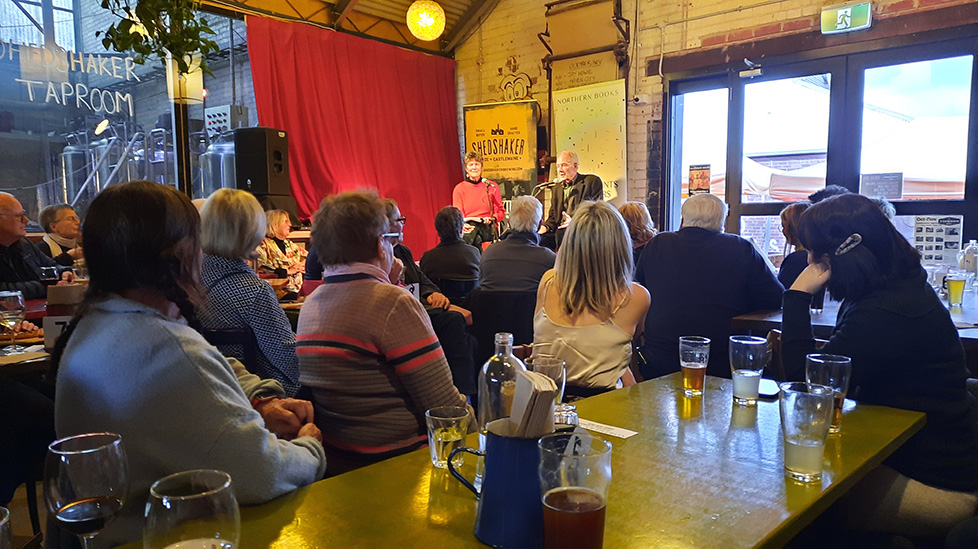 New and newish books from Editors Victoria members
By Stephanie Holt AE (edvic.president@iped-editors.org)
Are you casting around for some summer reading, or an appropriate gift for a book-loving loved one (or a non-reader you'd like to convert)? Consider this fascinating list of titles published over the past 18 months by Editors Victoria members who are writers.
Jay Carmichael's Marlo was released recently: a tender love story that opens up a hidden side of Melbourne's past and brings a country upbringing of secrets and sympathies to life. This work of historical queer fiction draws on archival material, snippets of newspaper articles, and photos to powerfully recreate a claustrophobic environment.
If stories of Melbourne's corners and subcultures appeal, you could also consider Dean Kyte's The spleen of Melbourne. Inspired by Charles Baudelaire's landmark collection of prose poems, Le spleen de Paris (1869), it examines the Parisian underbelly of Melbourne, a place where moments of stolen love often resemble scenes from a baffling crime. This one comes as a CD audiobook or MP3 audiobook.
Sandra Dexter has been exploring a suburban treasure, the First World War shrine in Melbourne's Surrey Gardens, Surrey Hills. People of the Shrine is a special reference publication for the Surrey Hills Historical Association. Get in touch with them if you'd like to learn more.
For fiction lovers, if you haven't yet read Lyn Yeowart's award-winning psychological thriller, The silent listener, we can definitely recommend it! A new edition of this 2021 release came out this year.
If your taste runs to the more speculative, Eugen Bacon has a number of recent works worth considering. Mage of fools (Meerkat Press) is Afrofuturistic dystopian fiction; Chasing whispers (Raw Dog Screaming Press) is a collection of stories of women and children haunted by patriarchy; and An earnest blackness (Anti Oedipus Press) is a collection of personal essays from her experiences as an African Australian woman, mother and writer who occupies a liminal space that is "betwixt" worlds and genres.  
For the young adults in your life (or lovers of YA books, whatever their age) there's a short fiction collection from Eden Van Leeuwen and historical fiction from Carole Lander.
Eden Van Leeuwen's Fire bringer brings you demon-summoning, accountants, cross-dressing, sewers, dentists, a pernickety frog and more, for laughter and despair in short-story-sized packages.
If your young adult prefers something a little more grounded in the nitty gritty of the past, perhaps they'd enjoy Carole Lander's Anne Scotchmer's diary 1918–1919. Based on a true story, this tells of the excitement of the Great War ending and the cruel twist that follows when an influenza epidemic sweeps the world, and the seaside town of Nowra along with it. For young Anne, an aspiring artist, her diary becomes a record of a rapidly, tragically changing place.
For younger readers, Sarah Lovesy has written The What if? Kids – Beyond The Attic (Bumblebee Books, UK).
This is adventure fantasy aimed at seven- to nine-year-olds; a celebration of play and imagination.
And for informative – though perhaps not festive – fare, Jackie Coyle has authored In the end: a practical guide to dying (Fernlea), and (with Tim Ladhams) Cancer treatment breakthroughs: milestones, lessons and inspiration for patients, families, friends and survivors (Wilkinson Publishing).
.
Congratulations Marie Pietersz!
The Editors Victoria committee congratulates Marie Pietersz, our Events Officer, for her achievement in the Premier's Award for Victorian Senior of the Year.
Marie was the winner of the Promotion of Multiculturalism Award, which is awarded to an individual for a significant contribution to promoting the benefits of cultural diversity in their local community or in the broader community.
The organisers of the event had this to say about Marie:
"Since migrating from Sri Lanka in 1972, Marie has focused on making the most of every opportunity and helping people to build their skills, have fun and stay connected through music and dance.
For the past 16 years, Marie has run line dancing classes at Nunawading U3A. Her popular classes were held via Zoom during the pandemic, helping members to socialise and stay active from home. The group have regularly performed at the Victorian Seniors Festival, including recent online performances, and are looking forward to dancing at Celebration Day this year.
Marie recently started a 10-week line dancing course for the Southern Migrant Refugee Centre, where she supported participants to join in the fun in-person and from home. Marie also runs many line dancing classes for aged care residents, both in-person and online. People participating in Marie's classes enjoy the music, company and dance while improving their balance and confidence.
Marie is also an active volunteer with Editors Victoria, serving as the Events Officer and coordinating a range of professional development opportunities for members. During the pandemic, Marie quickly and effectively helped the organisation to move events online, providing valuable learning opportunities and social interaction, particularly for self-employed freelance editors."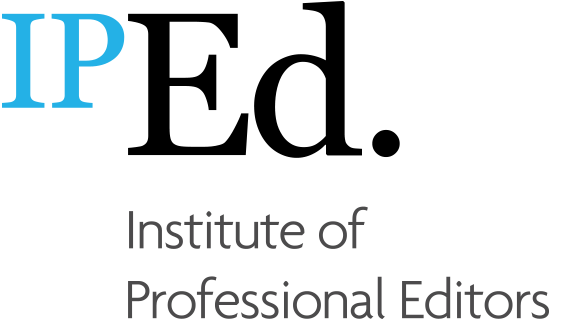 The Institute of Professional Editors Limited (IPEd) is the professional association for Australian and New Zealand editors.
IPEd acknowledges the Traditional Custodians of the unceded lands throughout Australia and their connections to land, sea and community. We pay our respect to their Elders past and present and extend that respect to all First Nations peoples today.