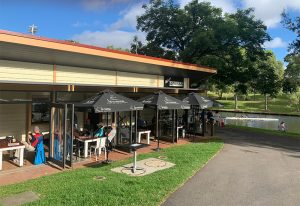 As writers' week dawned in Adelaide, eight members of Editors SA gathered for breakfast beside the River Torrens at Lounders Boatshed Café on 5 March. This was our first in-person meeting this year, so we greeted each other enthusiastically and enjoyed exchanging news over coffee and delicious food. The conversation ranged from the writing and editing projects we have been working on to our summer breaks and to the writers we hoped to hear from later.
After breakfast, we strolled across to the Pioneer Women's Memorial Garden to soak up the sunshine and the delightful atmosphere of Adelaide Writers' Week.
On the East Stage, Michelle de Kretser talked about her writing process and how life experiences can influence writing, while on the West Stage Jennifer Mills delved into the powerful themes examined in her new book.
Those who made a day of it also had the opportunity to hear Dr Norman Swan provide a commonsense approach on how to live a healthy life, as well as Claire Thomas and Angela O'Keeffe speaking about writing stories with art at the heart of them.
Despite the COVID-19 cloud and restrictions, Adelaide Writers' Week was abuzz with fellow literary lovers and did not disappoint!
By Sumudu Narayana, member, Editors SA Branch Committee